Rustic wood stools abound on the interiors marketplace. They're wonderful accessories for a natural touch - dressing up the bathroom vibe and propping up that plant in the corner. Light and easy to move, they're wonderful when you need an extra surface or another seat at the table.
There are antique stools with worn, peeling paint and finely turned legs. You've likely come across elegant midcentury classics, like Artek's Stool 60 & Stool E60. Then of course, we have the ever charming backyard stump stools. Today, contemporary forms are also being churned out all over - from woodshops like ours to huge manufacturers around the globe.
Our Simple Stools here at JOHI lean a little natural and a little pop. Each is made of high grade baltic birch plywood, materially stable in shape and sturdy in form. Its profile reminds some of the Jetsons, and others directly of rocket ships. Sitting at 18"H, they're a perfect seat for a standard table height (30"H).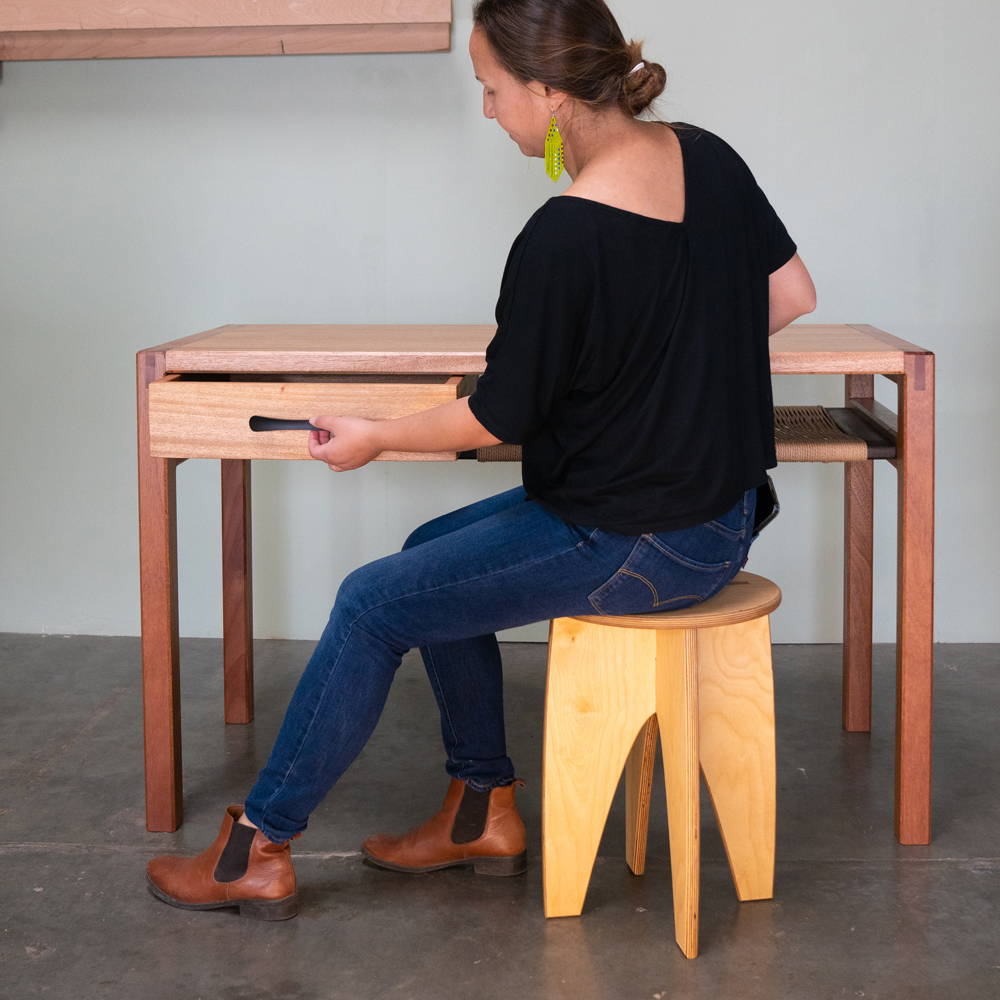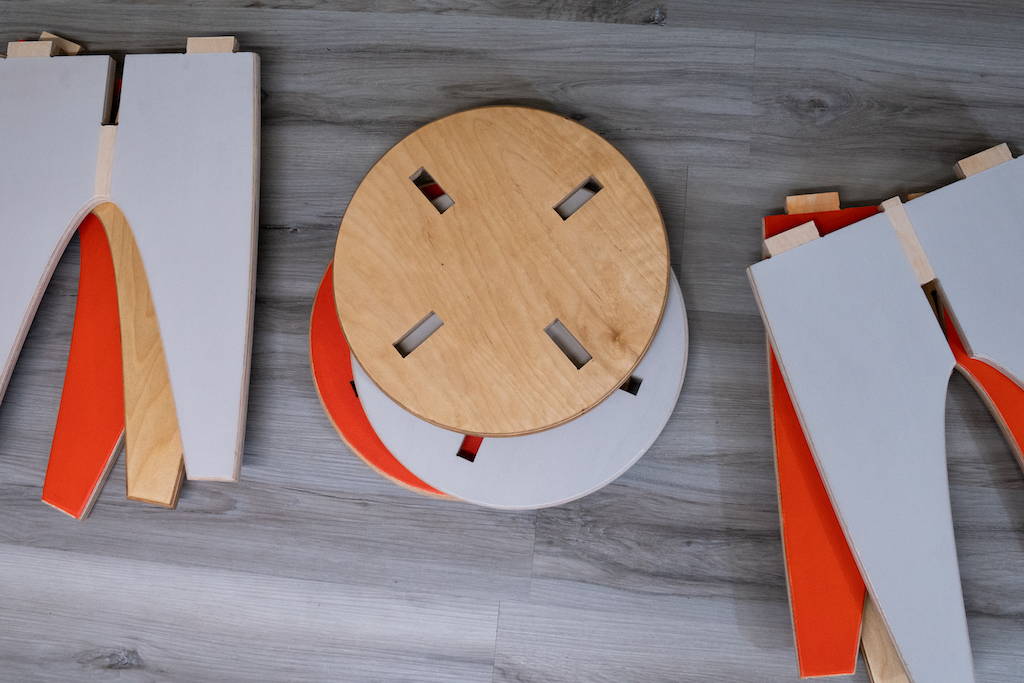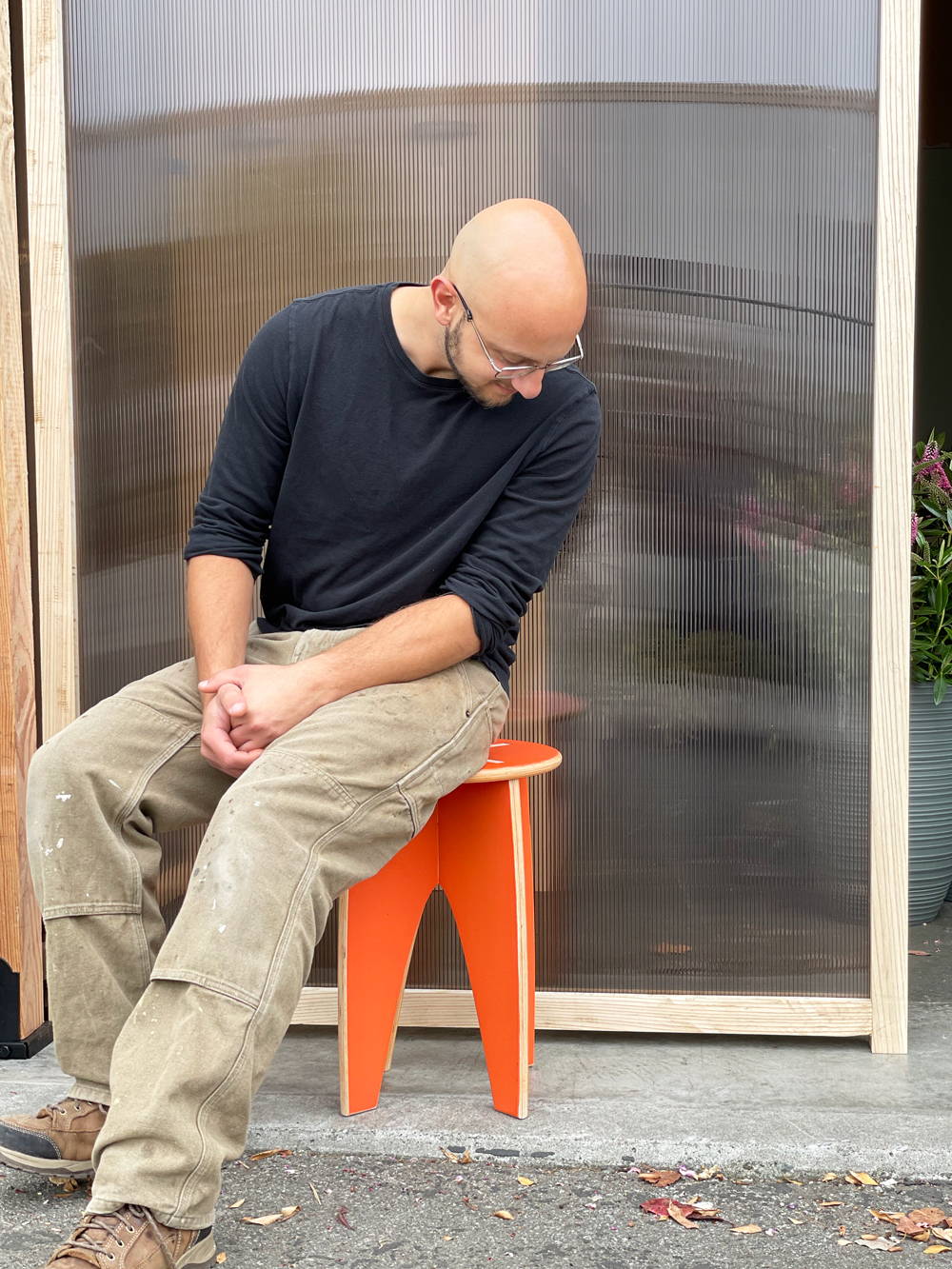 Pictured, Upper Left: Natural, waxed Simple Stool with Kamehana Writing Desk.
Pictured, Lower Left: Simple Stools deconstructed - painted Stone, waxed Natural, and painted Persimmon.
Pictured, Right: Raja B. sits on a painted Persimmon Simple Stool.
Photos owned by JOHI Design Studio.
---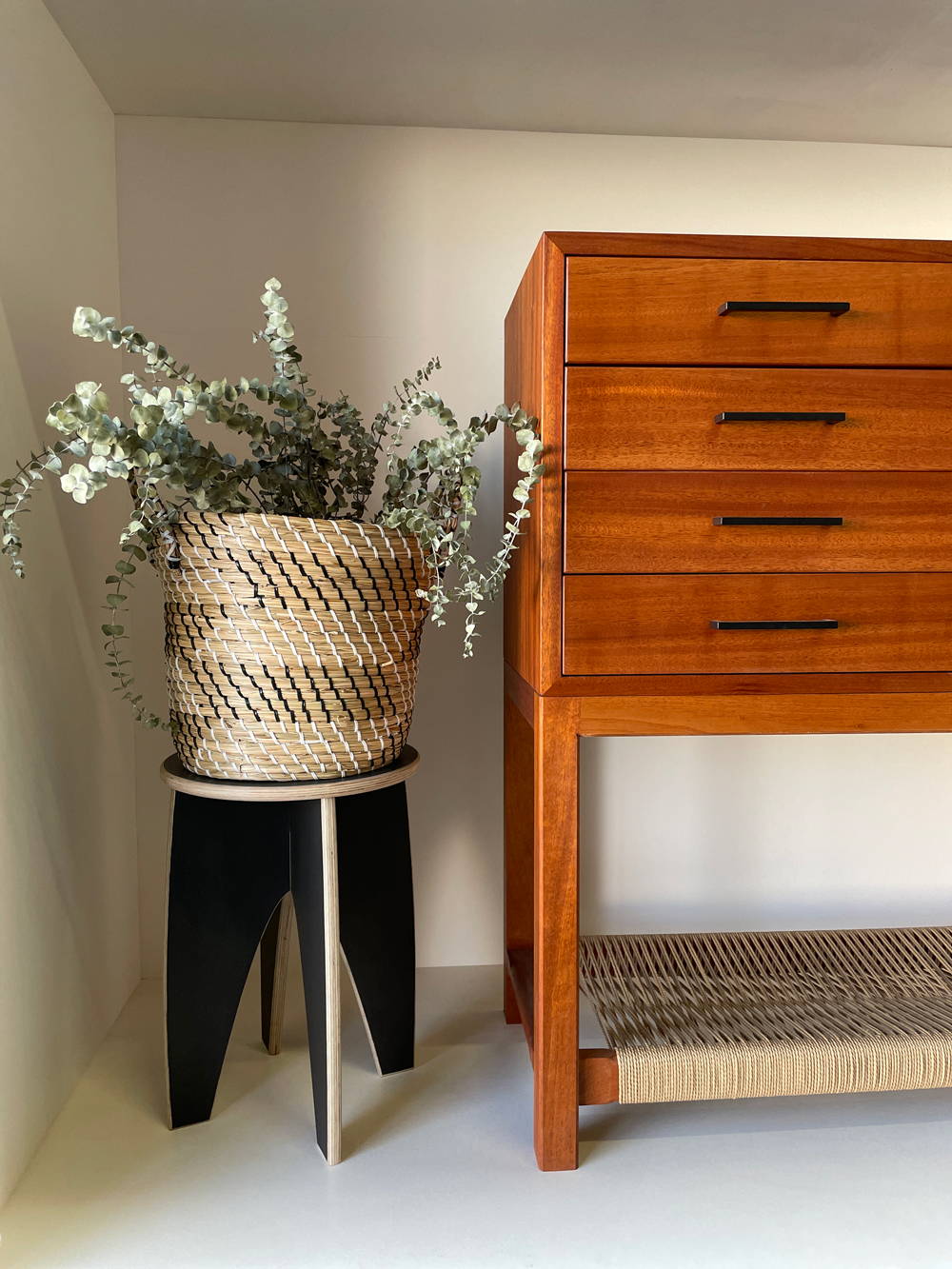 Painted Arabian Night Stool with Basket of Eucalyptus Stems; Sits next to our studio's Entry Console.
Photo owned by JOHI Design Studio.
The actual seated function is just one great way to use this gem of JOHI. One of the most common uses amongst our customers is also as a plant stand: in the living room, entryway, bedroom, and bathroom. With a circular seat top that's 13" in diameter, it's proportionally fitting for an array of planter sizes. You can pick from our handful of color options to complement your plants & planters, from serene Stone to popping Persimmon.
As pictured in the following home shot, the Simple Stool shines in pairs! Each pair can be stacked like so, bringing more intrigue and color to your space.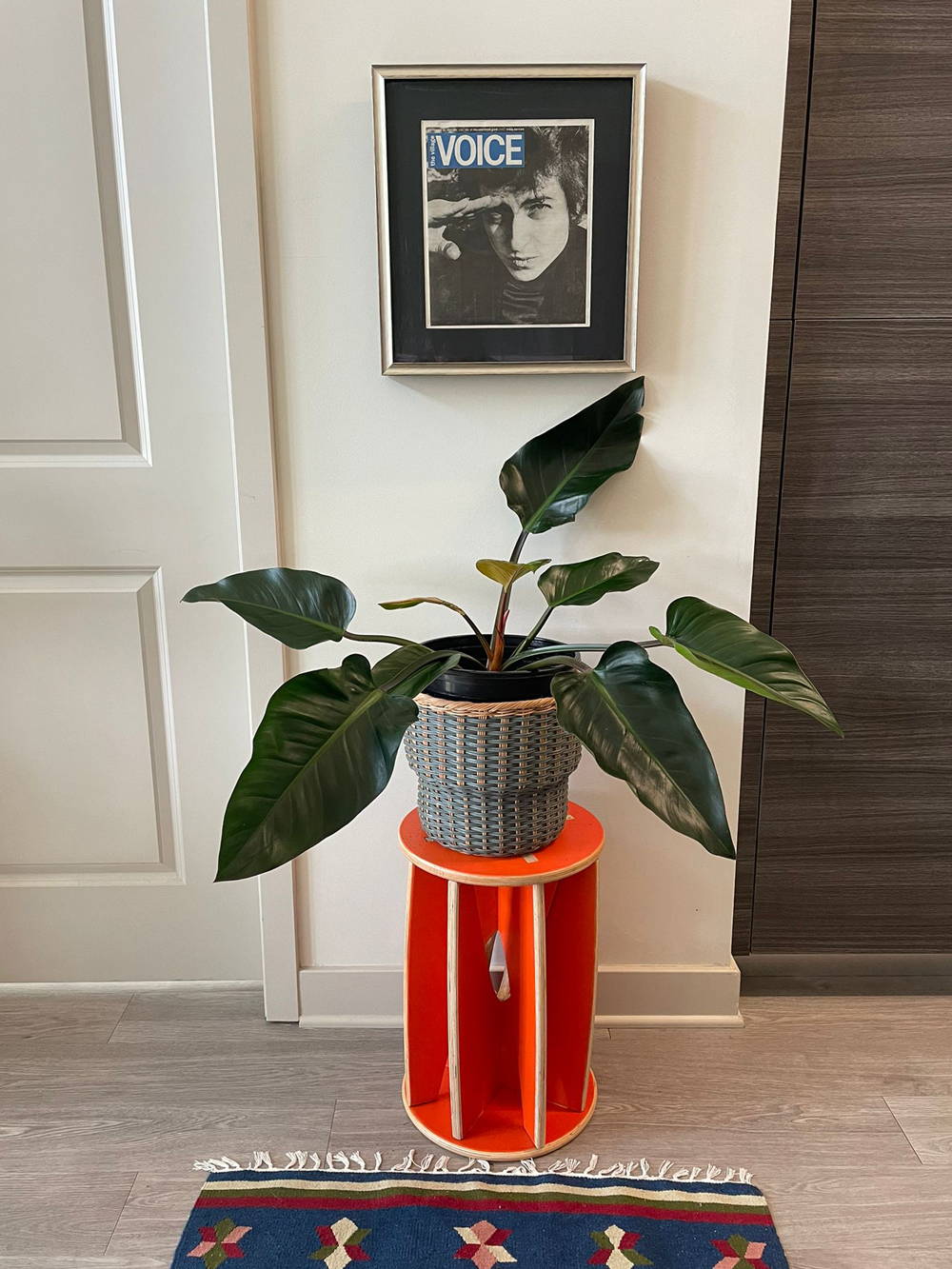 Stacked Stools in persimmon contrast beautifully with the large potted plant.
Photo submitted by Z. Shuhaibar.
---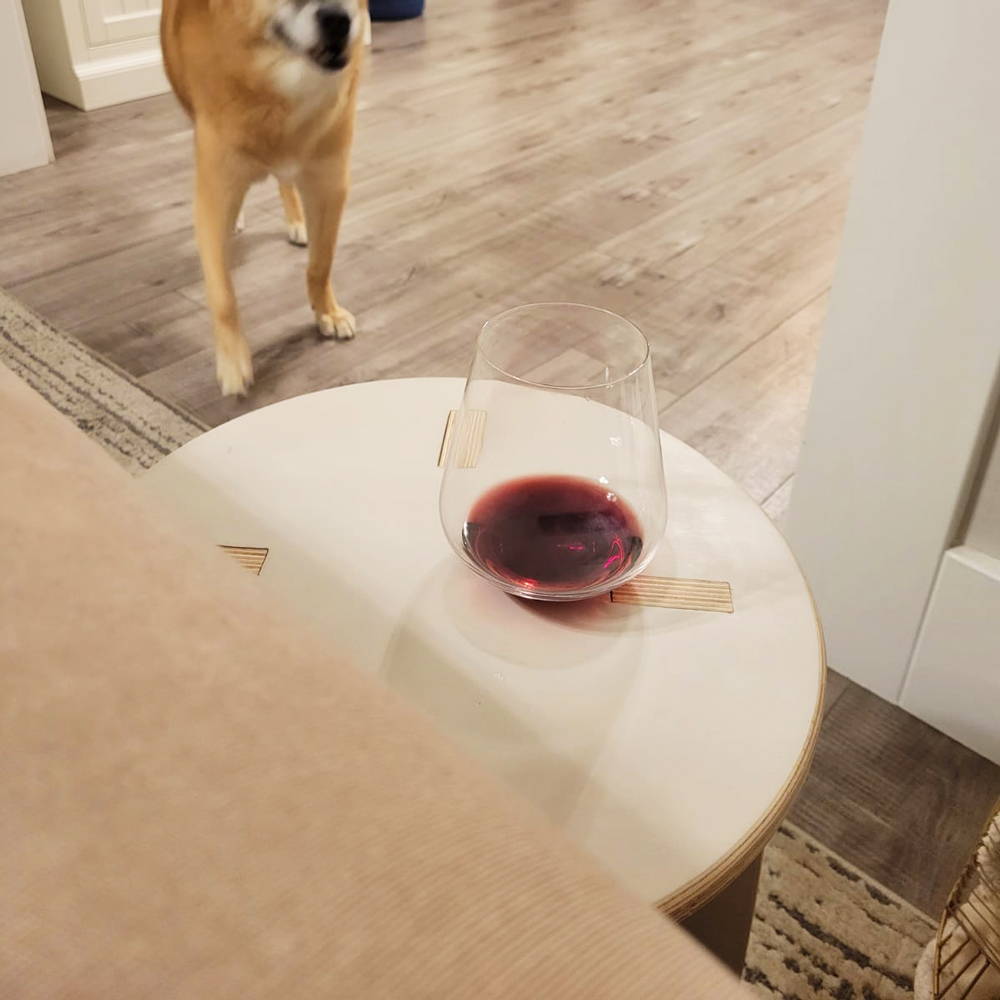 Painted Stone Stool serves as a lovely side table in this living room setting.
Photo submitted by S. Shuhaibar.
Ah the convenience of a side table. It's not just about having the surface there to set down your mug, book, plate, etc. You want the surface in about the right height range for where this side table is located.
For instance, with sofas and chairs, it's generally recommended to select your side table to be within 1-3" lower than the piece's arm height. So with our standard 18" H stool, you're often best off styling this next to a low- to no-armed sofa. In some instances, we've created alternative height pieces for standard and taller backed sofas. Dependent on the depth of your chair or sofa, you may want to bring in 1-2 more styling elements around the stool to fill out the space more fully.

Similarly, you want bedside tables to be within a few inches of your mattress top. Measure the height from floor to top of the mattress before committing to your bedside table.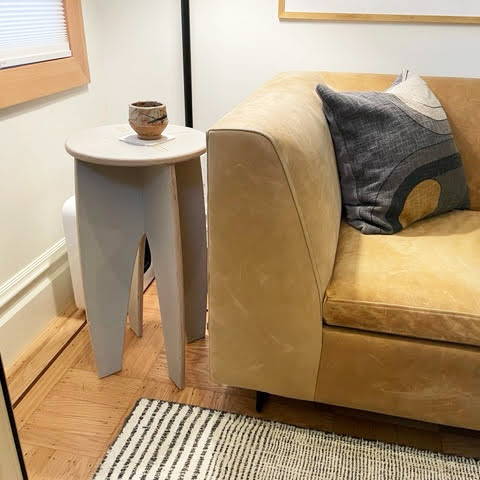 Custom sized, this painted Stone Stool sits just a few inches below the sofa arm and back height.
Photo submitted by T.H.
---
Simple...Flexible, Interior Accents
Our Simple Stool offerings are currently best suited for interior applications. Whether painted or natural, we finish them in two coats of clear carnauba wax, providing a hard surface with light sheen. It's durable for interior uses and can be refinished in a clear wax as needed. Whenever we're at a design show, like San Francisco's West Coast Craft, we love to ask our customers and visitors why they like the JOHI Simple Stool. Here are some reasons it's caught their eyes:
1. Color pop in [persimmon/green/stone/black] is great for the living room scheme.
2. Serves as a side table that transfers to extra seating as needed.
3. Double stacked, they love the dreamy plant stand possibilities.
4. It's a great size to pull up next to their child's bathtub.
5. Perfect height for sorting records (this might have been our favorite reason to date).
Whatever functions you're considering for a Simple Stool or any other out there, just remember how flexible it really can be. The opportunities for styling accent stools in your home and place of work are numerous - both indoor and outdoor.
Visit the Simple Stool in Arabian Night, Maile Green, Persimmon, Stone, and Natural (Waxed) by clicking the product highlights below.
For more of our everyday updates, follow our Instagram @hellojohi and Pinterest @JOHIhome. Mahalo / Thank you for supporting our small business!