Made to order, with room for customizations.
This product does not qualify for free shipping due to its size and weight.

OPTIONS AT CHECKOUT
1. Nearby?

Select Pickup from our studio. Pop into our studio showroom when your order is ready!

-or-

Request delivery to a local address, from San Francisco to Monterey. Delivery fees vary.

2. Select fixed shipping, and we will followup with an add-on quote to complete shipping & delivery.

3. Contact us directly for your shipping quote.

Designed as an elegant storage solution for small spaces. A handwoven shelf and cabinet door of laced Danish cord provide a unique accent for your home or office.
• LIMITED IN-STOCK: Like what you see? We carry very limited in-stock pieces in our studio showroom. Reach out to schedule an appointment or inquire for availability.
• CUSTOMIZE: Made to order for your style & space. Whether you need altered dimensions, prefer a different wood, weaving pattern, or hardware style, reach out to let us know what you're thinking. Final prices may vary from in-stock listings, due to customizations.
• MATERIALS:
- Solid Wood. We fabricate the frame, cabinet door, shelf, and drawer boxes with solid wood.
- Valchromat Fiber Panel. We use this moisture resistant, non-toxic (European standard), high-end wood fiber panel for the console's drawer bottoms and the console backing panel. It is a stable and easy to clean material.
- Laced Danish Cord. This strong 3-ply fiber product is known for its appearances in iconic Danish Modern design of the mid-1900s. It is an elegant natural texture that is known to endure the decades.
- Matte Black Metal Hardware.
• Made in CA, USA
The JOHI community uses in the Entry Console in more than just entryways! With its size and style, it works well in a variety of settings:
• Bedrooms
• Living Rooms
• Offices
• Studio Apartments
Dimensions: 28" W x 83.5" L x 30.5" H
We make our entry consoles on the central coast of California at our Watsonville studio-workshop. We're happy to customize this design to your style - through weave, wood, dimensions, and hardware!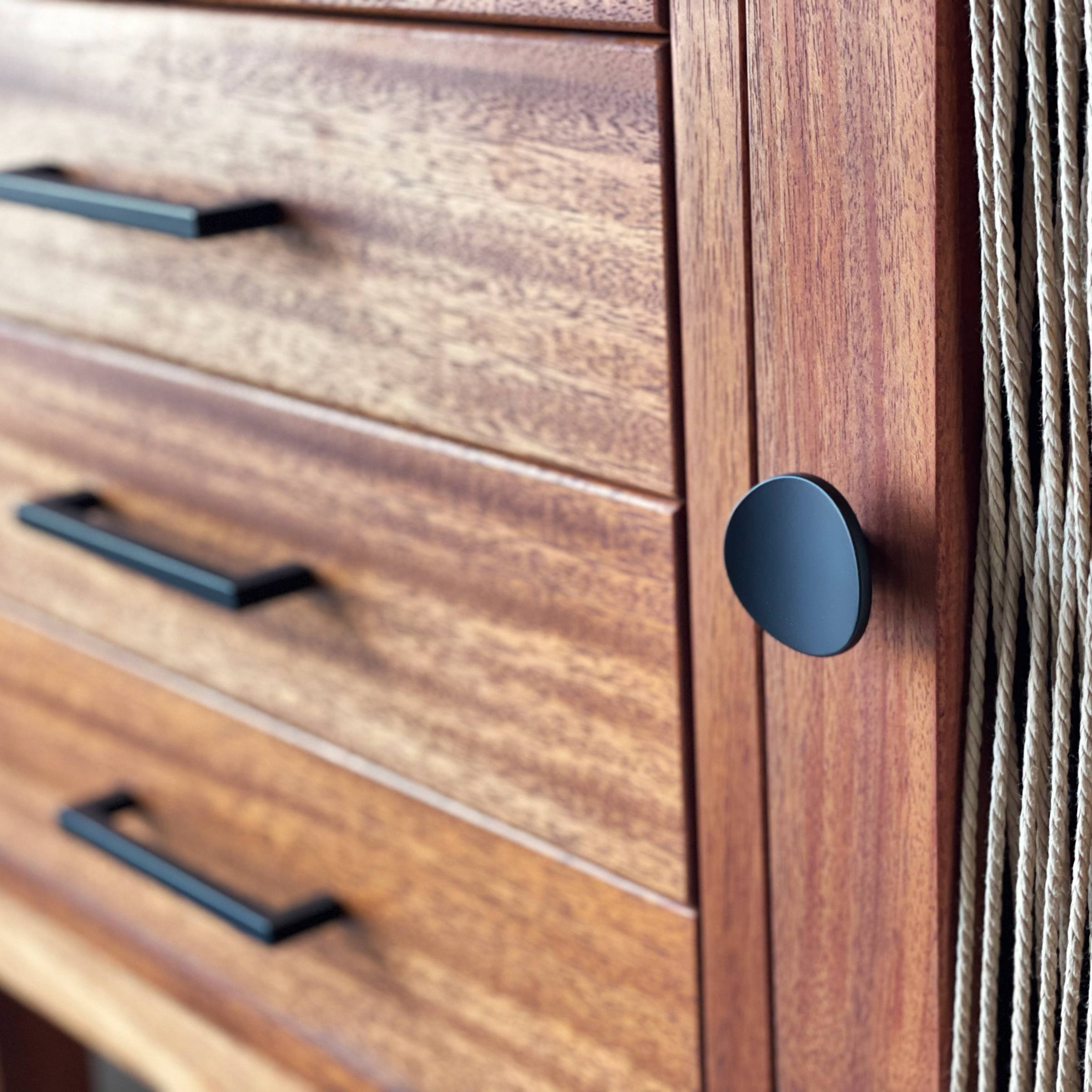 Our collection design comes with four drawers on the left and a cabinet door on the right with spacious interior. Prefer another setup? Let's talk through your needs.
Soft-close drawer slides and high quality hardware. We create our pieces with longevity in mind. With an investment in design + craft, it's what you deserve.

LIMITED PRODUCTION. We produce our Writing Desks primarily made-to-order. That means you can let us know what you're looking for! A different wood? A natural toned shelf? We'll help you work through any questions.